Bathroom cabinets are greatly varied in terms of design, construction, style, function, and price. You have so many options before you that the entire idea of shopping for bathroom vanity cabinets may actually overwhelm you. Yet, there is absolutely no need to stress over buying cabinets. If you break down the process of choosing cabinets, you will have an easier time identifying the cabinetry you need for your bathroom space.
Take some free time and just look at bathroom cabinets for sale. Check out all of the unique varieties so you know what types of cabinets are for sale online. Look at medicine cabinets, recessed cabinets, wall cabinets, bathroom vanities with cabinet bases, open shelved cabinets, over the toilet cabinetry, towers, basket lined cabinets, freestanding cabinets, corner cabinets, linen cabinets, and cabinets that extend from the ceiling to the floor. Consider how you can best mix and match options to maximize the storage areas in your bathroom.
If you shop for a vanity with cabinets, you will also want to take a look at countertops, sinks, and sink hardware. It is vital that the sink and hardware as well as the countertop accentuate the natural beauty of the cabinetry you choose. Some vanities are sold with the sink portion already installed; thereby further simplifying your shopping. Some vanity cabinets are also sold with a included mirror or included faucets too so you do not have to shop for hardware.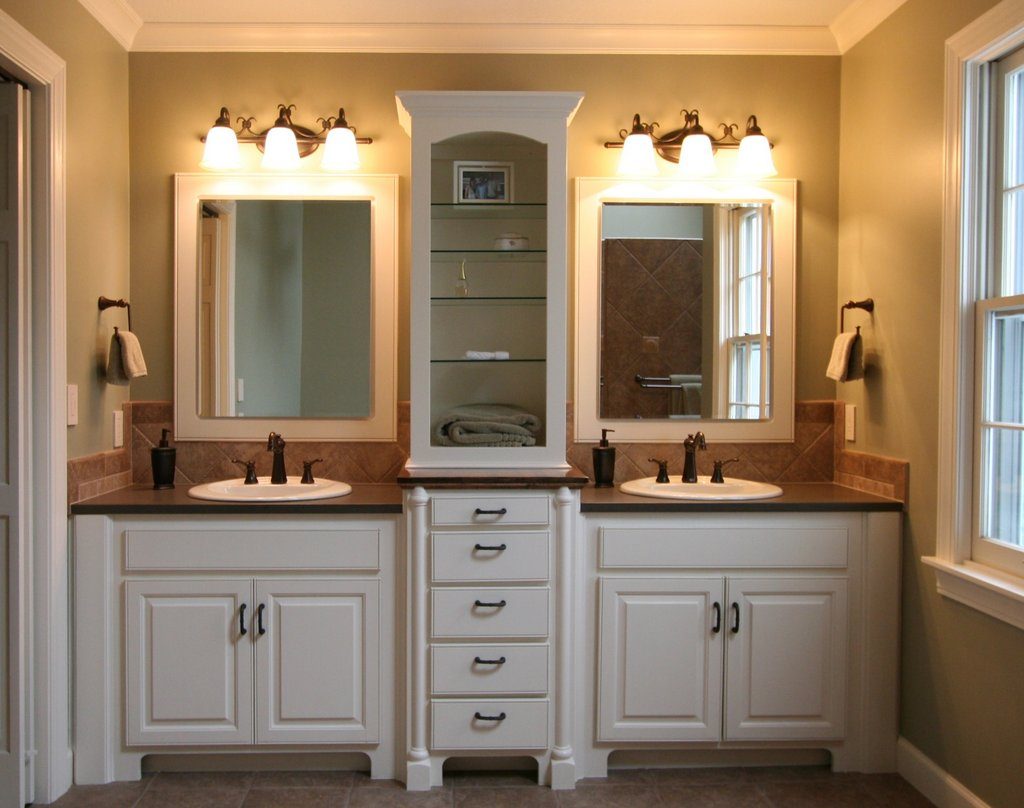 If you are shopping for a sink to add to your cabinet, make sure you consider the number of basins you need, and if you want a traditional sink basin or a raised sink. Meanwhile, when searching for hardware for the sink and/or cabinet; consider all of your bathroom décor as well as the look of the cabinets so that everything matches well with your bathroom theme.
Shopping for bathroom cabinetry will take a lot of research on your part. Just looking at the unique materials that cabinets are constructed out of will take you some time to compare. You will find superior cabinets made of Birch, Cherry, Alder, Ash, Basalt, Knotty Pine, Mahogany, Oak, White Ash, Walnut, Sycamore, and more.
If you get cabinetry that you want to add a bathroom countertop to, you will then have to choose the right material for the counter's construction. You will have options that range from scratch resistant, more costly countertops to less costly but less scratch resistant options. Countertop materials include choices like stone, stainless steel, composite materials, laminates, and wood, tiles. Considering what the cabinets are made of is not only important in terms of coordinating a design theme; the materials your cabinets are made of must prove truly appealing to you over the long term.
When it comes to drawers, you will find cabinets crafted with anywhere from no drawers to as many as ten drawers. You will also find that cabinets can have no shelving or as many as six shelves for extra storage. In addition, most cabinets for the bathroom can have anywhere from one to four or more doors too. To figure out how many drawers, doors, and shelves will be ideal, you need to know two things: how much room you have in your bathroom for cabinetry and precisely what you plan on storing in the cabinets once you have them installed.